A Message from the inventors
When it comes to our air disinfection devices, we combine innovation and tradition in one unique package. Our approach differs from existing methods; we prioritize your health and utilize the latest technologies to create air sterilization solutions for the modern world.
Why Trust Our Air Purification Devices?
Fast, effective, continuous air disinfection

Using our knowledge of the physics of air movement, we make your indoor spaces cleaner and safer. Rapid and directed air recirculation increases the volume of purified air, creating safe zones with anti-virus barriers.
Fight viruses and bacteria, not just dust and dirt.
We deliver technology more effective – and more relevant – than other air purification solutions. Our devices remove harmful viruses and bacteria from the air, keeping you safe even when you're associating with potentially infected people.

Versatile technology means long-term value
You benefit from more cubic feet of purified air for a completely clean and safe space. Our competitive prices mean our devices are a sound long-term investment in your health and the health of others.
We need to rethink air decontamination. Quickly.
DO HEPA FILTERS ELIMINATE VIRUSES?
Although HEPA filters trap microorganisms, they continue to thrive and multiply, and can even be re-released into the air.
HEPA filters protect against dust and allergies. By contrast, devices such as ozonation systems, plasma air purification, and bactericidal recirculation systems are guaranteed to disinfect the air around you.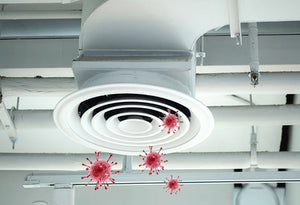 VENTILLATION: A SUPERSPREADER?
Despite the significant intensity of air exchange in the room, the rate of decrease in the concentration of aerosols containing viruses is very low. As a result, viruses are easily transmitted from one space to another. Our method assumes an instant decrease in the concentration of harmful aerosols when an infected person exhales.
PLASTIC SCREENS: A PLACEBO EFFECT?
Check-in counters and front desks are often fenced off with transparent screens. Two scenarios are likely to happen. A) The ventilation is installed above and it sucks the air through the gap under the screen, passing next the employee's face (an obvious hazard). B) There is no ventilation over the desk; in this case, the dangerous aerosols linger for a long time, likely travelling around the screen.
CHOOSING THE RIGHT DEVICE FOR YOUR HOME OR BUSINESS
UV FANS
UV fans perform volumetric air disinfection to keep occupants safe from viruses. They have two modes, both of which can be used when people are present.
In "fan off" mode, the device performs gradual air disinfection via 360° UV radiation. Safe for humans, this radiation creates a sterile area in the ceiling space, with all rising convection air being instantly disinfected.
In "fan on" mode, the device performs rapid disinfection of the premises. The fan creates expansive air flow from top to bottom, therefore protecting any occupants below.
Suggested applications:
home, school rooms and auditoriums, waiting rooms, restaurants, bars, gyms, hotels, casinos.
Buy now
WALL-CEILING UNITS
A wall-ceiling mounted device creates a safe, localized space in residential or commercial premises. It actively protects specific spaces via a directed supply of disinfected air in large volumes. It operates continuously as an air recirculator to clean the air in the entire room.
These devices can be used safely in occupied premises and installed wherever an air shield is necessary, such as in open-plan spaces.
Suggested applications:
front desks, cash registers, social worker's desks, hair salons, nail salons, dental offices.
Buy now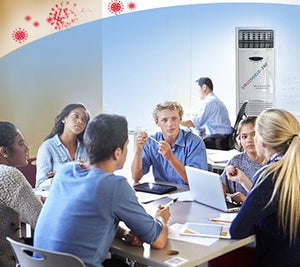 FREE-STANDING UNITS
A free-standing unit provides the fastest possible disinfection of rooms containing a large number of people. Such devices are easy to install and because they are free-standing, can be relocated to wherever they are needed. They are therefore a versatile and convenient choice for larger spaces and can be used when the room is occupied.
Suggested applications:
school auditoriums, conference rooms, gyms, hotels, casinos, lobbies, indoor lines.
Buy now
CALL US TO FIND OUT WHICH DEVICE IS BEST FOR YOU: +1-315-888-4944
Free standing ultraviolet bactericidal irradiator-recirculator
Wall- or ceiling-mounted ultraviolet bactericidal irradiator-recirculator
Ceiling Fan Decontaminator
Testimonials
Great job, I will definitely be ordering again!

Fawn U
UVC Disinfector is exactly what our business has been lacking.

Tani L.
Really good. I use Disinfector often. Very easy to use.

Felipe X